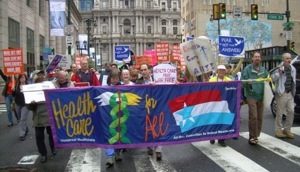 Organizing for Single-Payer Health Care in the Philadelphia Region
Health Care for All Philadelphia is a coalition of health professionals and activists dedicated to achieving a publicly financed, single payer health plan that provides one standard of cost-effective, high quality care for all people.
Updates
A record number of cosponsors of HR 676, the national single payer legislation, now numbers 100.  All are Democrats.  We would love to have one or two Republicans.  Interestingly, in polling data, almost 40% of Republicans now support single payer and over 80% of Democrats.  As Speaker Paul Ryan is about to reintroduce the American Health Care Act again, there are rumors that preexisting conditions can now be rated and premiums can be raised as much as tens of thousands of dollars.  Trump who promised to give us a better plan is likely to give us something far worse.  In order to get it under the 100 day "deadline", Republicans may pass the bill without scoring from the Congressional Budget Office.  A huge mistake and an insult to the American people.  No score, no bill.
Join the Campaign for Guaranteed Health Care, Pennsylvania Staff Nurses and Allied Health Professionals, Put People First-PA, Health Care for All Philadelphia/Pennsylvania and the PA Federation as we have a teach in on Medicare for All.
The only plan that can replace the ACA and give better care for less money is single payer, national health insurance.  Please come.  Bring your friends.  Learn about Medicare for All.  Free.
Refreshments provided.
Saturday, April 8, 2017, 2:30-4 PM
Friends Center, 1501 Cherry St, Philadelphia, PA
If the ACA is repealed as currently threatened, most of the safety net hospitals like the academic medical centers will be in big trouble.  Temple is just one of the major hospitals that could be devastated.  The only replacement plan that could improve the impending disaster is single payer, national health insurance.
Come out on Sunday, January 15 to rally for health care, Jan. 15, 1 PM, Temple Hospital, 3401 N Broad St, Philadelphia.  Join with PASNAP, Congressman Dwight Evans and others as we defend health care from disastrous cuts.
The next Health Care for All Philly meeting will be AFTER the election on Tuesday, Nov. 15 from 7-9 PM. If you want to strategize about what we should be doing next, please come.  The meeting will be in the Lucretia Mott Room, Friends Center, 1501 Cherry St, Philadelphia.  Free and open to the public.
Don't forget to VOTE!