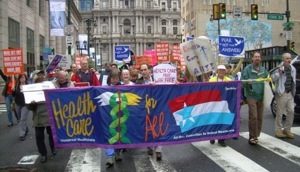 Organizing for Single-Payer Health Care in the Philadelphia Region
Health Care for All Philadelphia is a coalition of health professionals and activists dedicated to achieving a publicly financed, single payer health plan that provides one standard of cost-effective, high quality care for all people.
Updates
Please note a change of location for the general meeting which is moving to Temple Hospital, Broad and Tioga, 5 Parkinson, Room 525., 7- 9 PM, 2nd Tuesday of the month.
Coming this Tuesday, March 11, we are going to have a mailing party for our annual fundraiser. If you are interested, please join us at the Community College of Philadelphia, Business Building, 18th and Callowhill St. Meet in the lobby. 7 PM.
The gubernatorial candidates have been asked about their position on single payer. Our current information shows the following supporters of single payer:
John Hanger (D) http://www.youtube.com/watch?v=ilSGk84j9uI
Max Myers (D)
Tom Wolf (D) studying it
Paul Glover (Green)
Opposed to single payer:
Allyson Schwartz (D)
JoEllen Litz (D)
Rob McCord (D)
Katie McGinty (D)
Tom Corbett (R)
Because of the snow, we have decided to cancel the face to face meeting tonight. There will be instead a conference call. Those interested should email me at macman2@aol.com for details. Walter