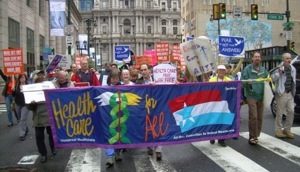 Organizing for Single-Payer Health Care in the Philadelphia Region
Health Care for All Philadelphia is a coalition of health professionals and activists dedicated to achieving a publicly financed, single payer health plan that provides one standard of cost-effective, high quality care for all people.
Updates
Businessman Richard Master got sick of double digit increases in his employee's health insurance premiums and decided to investigate what was behind the rise in health care costs. His conclusion was that America needs a single payer, national health insurance system. His hour long documentary is a superb movie explaining the business case for single payer. If you promise to show the movie, you can get a copy and see the trailer at Fix It: Healthcare at the tipping point
Good stuff.
Health Care for All Philadelphia is sponsoring a speaker, Dr. Albert Wertheimer, who will talk at the Free Library Central Branch, 1901 Vine St., Philadelphia at 7 PM on May 6, 2015. He is Professor, Pharmaceutical Economics at Temple University. His topic will be "US Drugs: Why So Expensive?"
Dr. Wertheimer will discuss why the US pays the highest drug prices in the world. He will discuss policy options to address the high price of pharmaceuticals.
Lecture is free and open to the public. Please share with others.
We are going to move our general meeting which is open to the public to this Tuesday, Dec. 16 from 7-9 PM at the Friends Center, 1501 Cherry Street, small conf room with Physicians for Social Responsibility. (1st floor, straight back). Hope to see you there.
Because key people are unable to come on Oct 14, the next general meeting of Health Care for All Philadelphia will be on Tuesday, Oct. 21 at 7-9 PM, Brotherhood of Maintenance of Way, Pennsylvania Federation, 421 North 7th Street, Suite 299
Philadelphia, PA 19123 (near Spring Garden and 7th St.) Note the change of date and location. We will be trying this location to see how it works.