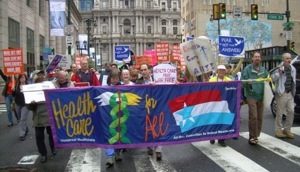 Organizing for Single-Payer Health Care in the Philadelphia Region
Health Care for All Philadelphia is a coalition of health professionals and activists dedicated to achieving a publicly financed, single payer health plan that provides one standard of cost-effective, high quality care for all people.
Updates
FIXIT:  Healthcare at the Tipping Point will be shown on July 14, 7:00-8:30 PM at Weavers Way movie theater across from the COOP which is at Carpenter and Greene St.  FIXIT is the documentary that looks at our nation's health care system from a business perspective and finds it very wanting.  Filmed mostly in Pennsylvania, you will want to see this brilliant documentary.  Dr. Walter Tsou who is filmed in the movie will presenting the movie.  Open to the public.
There will be several marches at the Democratic National Convention in Philadelphia.  Join us as we support the need for single payer health care in America.  We will be joining March for Our Lives, one of many marches.  Meets at City Hall at 3 PM and we'll walk the length of Broad Street to the Wells Fargo Center, location of the DNC.  Along the way, we will be holding our signs asking for single payer.
Buses are offered at Buses
Housing is offered at Housing hosts
Other marches that weekend:
July 24 – March for Clean Energy Revolution
July 25 –  11 AM  – March on DNC
July 25 – 3 PM – March for Our Lives 
Wednesday, May 11 at 10 AM, Widener Hall, Presbyterian Church of Chestnut Hill, 8855 Germantown Avenue, Philadelphia.  See the new documentary, FIXIT:  Healthcare at the Tipping Point.
Two years in the making, FixIt is a new documentary that looks at the increasing cost of US health care from a business perspective and offers a surprising remedy – single payer health care.  Richard Master, CEO of MCS Industries describes his own personal journey as a businessman trying to do the right thing for his employees and why, after talking with experts here and business leaders in other countries, he concludes that it is time for a new approach to health care (just in time for this year's presidential election).  Health care affects every business, every person in America.  Filmed largely in Pennsylvania.
Businessman Richard Master got sick of double digit increases in his employee's health insurance premiums and decided to investigate what was behind the rise in health care costs. His conclusion was that America needs a single payer, national health insurance system. His hour long documentary is a superb movie explaining the business case for single payer. If you promise to show the movie, you can get a copy and see the trailer at Fix It: Healthcare at the tipping point
Good stuff.