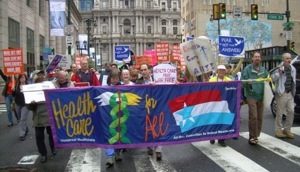 Organizing for Single-Payer Health Care in the Philadelphia Region
Health Care for All Philadelphia is a coalition of health professionals and activists dedicated to achieving a publicly financed, single payer health plan that provides one standard of cost-effective, high quality care for all people.
Updates
We are going to move our general meeting which is open to the public to this Tuesday, Dec. 16 from 7-9 PM at the Friends Center, 1501 Cherry Street, small conf room with Physicians for Social Responsibility. (1st floor, straight back). Hope to see you there.
Because key people are unable to come on Oct 14, the next general meeting of Health Care for All Philadelphia will be on Tuesday, Oct. 21 at 7-9 PM, Brotherhood of Maintenance of Way, Pennsylvania Federation, 421 North 7th Street, Suite 299
Philadelphia, PA 19123 (near Spring Garden and 7th St.) Note the change of date and location. We will be trying this location to see how it works.
Please note a change of location for the general meeting which is moving to Temple Hospital, Broad and Tioga, 5 Parkinson, Room 525., 7- 9 PM, 2nd Tuesday of the month.
Coming this Tuesday, March 11, we are going to have a mailing party for our annual fundraiser. If you are interested, please join us at the Community College of Philadelphia, Business Building, 18th and Callowhill St. Meet in the lobby. 7 PM.