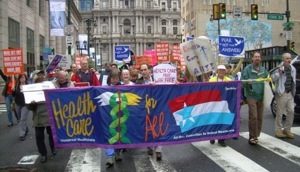 Organizing for Single-Payer Health Care in the Philadelphia Region
Health Care for All Philadelphia is a coalition of health professionals and activists dedicated to achieving a publicly financed, single payer health plan that provides one standard of cost-effective, high quality care for all people.
Updates
Coming this Tuesday, March 11, we are going to have a mailing party for our annual fundraiser. If you are interested, please join us at the Community College of Philadelphia, Business Building, 18th and Callowhill St. Meet in the lobby. 7 PM.
The gubernatorial candidates have been asked about their position on single payer. Our current information shows the following supporters of single payer:
John Hanger (D) http://www.youtube.com/watch?v=ilSGk84j9uI
Max Myers (D)
Tom Wolf (D) studying it
Paul Glover (Green)
Opposed to single payer:
Allyson Schwartz (D)
JoEllen Litz (D)
Rob McCord (D)
Katie McGinty (D)
Tom Corbett (R)
Because of the snow, we have decided to cancel the face to face meeting tonight. There will be instead a conference call. Those interested should email me at macman2@aol.com for details. Walter
On November 21st, Healthcare For All Philadelphia and Healthcare 4 All PA will be hosting Gerald Friedman, Ph.D. Professor of Economics, Univ. of Massachusetts-Amherst, to discuss single-payer healthcare in PA. Earlier this year, Friedman released an Economic Impact Study (EIS), "The Pennsylvania Healthcare Plan: Impact and Implementation", which discussed a single-payer plan for Pennsylvania as outlined by Senator Jim Ferlo's PA Senate Bill 400. It is essentially a statewide and improved Medicare for all system in Pennsylvania.
This event is FREE and open to the public. It will be held at William Way Community Center, 1315 Spruce Street, Philadelphia, PA from 6:30pm to 8:30pm. This single-payer system will create 100,000+ jobs and provide universal coverage for all citizens of the Pennsylvania – all while saving the Commonwealth $17 billion annually. The presentation will be followed with a Q&A session with the audience.
For more information on Health Care for All Philadelphia, the Economic Impact Study, or how to get involved, please comment below.