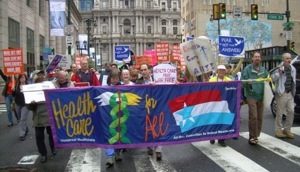 Organizing for Single-Payer Health Care in the Philadelphia Region
Health Care for All Philadelphia is a coalition of health professionals and activists dedicated to achieving a publicly financed, single payer health plan that provides one standard of cost-effective, high quality care for all people.
Updates
Join Healthcare for All Philadelphia, Students for a National Health Plan, PASNAP, and many more groups for a town hall on healthcare justice this upcoming Thursday, November 16th at the First Unitarian Church of Philadelphia (2125 Chestnut Street) from 7-9 PM. 
Guest speakers Patty Eakin, President of the nurses union PASNAP and Tim Faust, a healthcare policy expert from NYU's Wagner Graduate School of Public Healthcare and single payer correspondent for Jacobin Magazine.
At the event, groups from across Philadelphia who support the fight for single payer will be sharing details about the strategy of their work and to discuss the potential of forming a citywide single payer coalition to fight for a City Council resolution in support of Bernie Sanders' Expanded and Improved Medicare for All Act and Pennsylvania House Bill 1688.
On October 12th, Healthcare for All Philadelphia attended the first meeting of the 42nd Ward in Northeast Philadelphia, hosted by the newly elected leader Sharon Vaughn, to talk to members of the ward about House Bill 1688 and changes in healthcare under the Trump administration.
State Senator Art Haywood (D, Montgomery/Philadelphia County) has announced plans to introduce a single payer bill into the Pennsylvania senate later in the year!
Check out this video of Senator Haywood's announcement, including remarks from Healthcare for All's Field Organizer, Natalie Midiri, and representatives from the Pennsylvania Association of Staff Nurses and Allied Professionals, the Pennsylvania Federation of the Brotherhood of Maintenance and Way, and the Pennsylvania Women's March.
On August 31st, Healthcare for All Philadelphia participated in the People's Speak Out on Healthcare, an event hosted by local MoveOn.org Mobilizer Steve Paul from Councilwoman Helen Gym's office.
Local members of the ward shared their healthcare stories and concerns over rising pharmaceutical costs, expensive premiums, and changes to their coverage under the Trump administration.
Congressman Dwight Evans and State Senator Sharif discussed the political possibilities opened up by renewed interested in Medicare for All and single payer in the wake of the Sanders campaign.
Dr. Walter Tsou from Healthcare for All closed out the meeting with a presentation on why now is the time to solve the American healthcare crises with a single payer system.